12U rack for server, PC, NAS
Adjustable depth from 19 - 29" (483 - 737 mm)
Works with any 19" equipment
Compatible with all Dell, HP, IBM, Apple servers
EIA square hole mounting surface
Fits under most desks, tables
Standard casters included
Heavy duty casters, handles are optional
Front, rear covers are optional
U Markings labeled
---
Our portable server rack is a rack mounting solution designed for a user that needs their racks mobile in order to handle the various demands associated with portability.
As a result, the 12U rack is built with 16 and 13 gauge, cold, rolled steel and can be ordered with option metal casters and handles. The 12U server rack is compatible with Dell, HP, and Apple servers, and is capable of storing standard 19" devices.
The portable racks mounting depth is 19" to 29", and it boasts the ability to hold up to 540 pounds of equipment. The portable computer rack is also built with a number of special features to make it a versatile solution. Our 12U cabinet top is strong enough for monitors, printers, and other equipment, and its side is cast with louvers to improve cooling.
The 12U server cabinet features a self-squaring design with ball bearings included. Those who purchase the mobile server rack case can opt for heavy duty handles on the side, front, and rear covers. The covers are designed with 63% perforating to meet the standards set by OEM manufacturers.
All tools and hardware necessary for assembly of the portable network rack are included. All racks are packed knock down (flat-packed) for easy storage and assembly. We estimate 20 minutes of assembly to put the 12U portable servers rack together.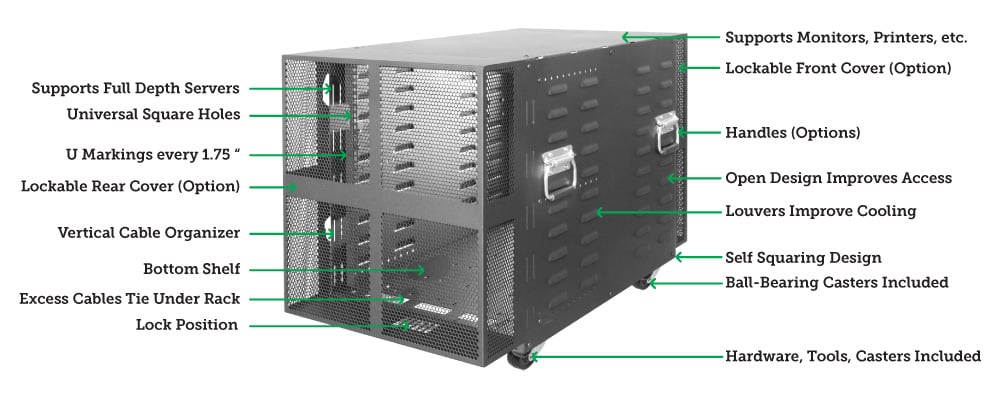 More Information
Rack Type
4 Post Rack, Enclosed
Hole Type
3/8" EIA square holes
Rack Internal Width
EIA 19" Standard Rack
Tech Notes
Unit weight: 65 lbs
Included Hardware
(18) 10-32 screws
(18) 10-32 cage nuts
Rack Height ( U Height)
12U
Finish
Black, textured powder coat
Rack Post Shape
L-Form
Assembly Notes
All required tools and hardware are included
Assembly time: approximately 20 minutes
Mounting Depth Range
19" - 29" (483 - 737 mm)
Adjustable in 1" increments (25 mm)
Rack Doors
Optional covers have a 63% perforation required by all OEM equipment manufacturers.
The non-hinged covers are easily secured with a thumbscrew.
The covers can be secured with a padlock if additional security is required (padlock is not included).
NOTE: Padlock must have 3/16" diameter shackle with 1/2" horizontal clearance.
Recommended product: MasterLock #105
Rack Outside Dimensions
H x W x D
Standard caster, without covers: 25" x 21.5" x 31" (635 x 546 x 787 mm)
H x W x D
Mobile kit with covers: 26.55" x 22.21 x 40" (674 x 564 x 1016 mm)
Rack Casters
Standard casters included
Optional, heavy duty casters
Rack Ventilation
63% perforation on covers
Louvered sides
Rack Sides
Louvered, non-removable
Amazon ASIN
RACK-117-12 = B00UVKCMTG
RoHS Compliant
Yes
TAA Compliant
Yes
We found other products you might like!