1U Cobra 155-A Dry Slide Rail for Dell
Designed for shallow depth racks 
Inner rails are shortened so they don't stick out of shallow depth racks

Works with square, round, and threaded holes

Dry slide rails offer greater longevity

Works with all EIA 19" standard racks
Mount in a 2 or 4 post rack with any hole type
Center mount on 2 post racks

Supports

L, C, and ?

rack upright shapes

Mounting depth:

4 Post: 20" - 30" (596mm - 762mm)

2 Post: 3" - 6" (76.2mm - 152.4mm)
Compatible with these servers:
Dell PowerEdge R240
Dell PowerEdge R210
Dell PowerEdge R340




The Dell PowerEdge R210 and R240 are known as "short depth servers" and we designed a rail to capitalize on that fact. Dry slide rails designed for full length servers typically have excess inner rail in the back. Since the R210 and R240 are shorter servers, the inner rails of this kit can be shortened so that they will fit within low depth racks.
Unlike OEM Dell rails, these will work with square, round or threaded hole racks out of the box. It also can be converted between 2 post and 4 post and four post mounting orientations. The rail is made from 18 Ga galvanized steel for long lasting, high quality experience.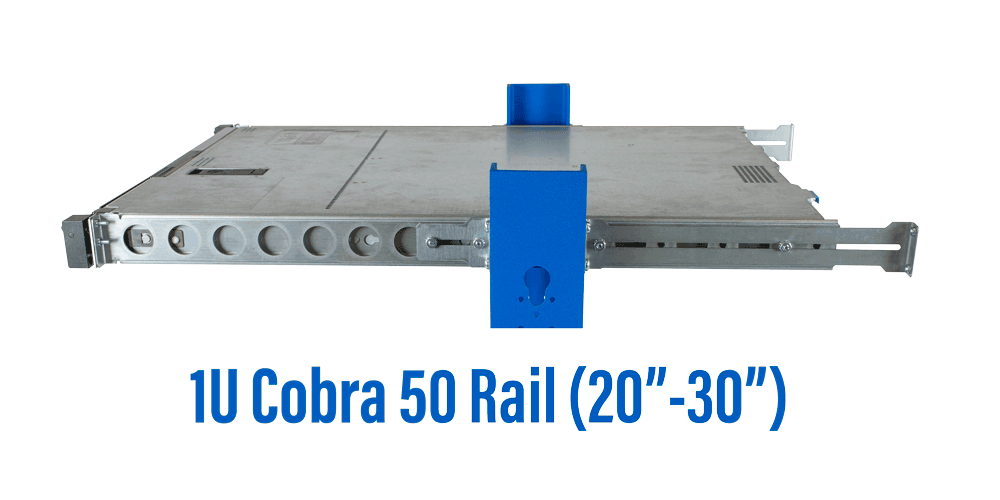 Inner rail protrudes on the 122-2579 (Cobra 79)
Inner rail stays within outer rail on the 122-7650 (Cobra 50)
More Information
Compatibility
Dell PowerEdge R6515 Dell PowerEdge R210 Dell PowerEdge R210 II Dell PowerEdge R220 Dell PowerEdge R230 Dell PowerEdge R240 Dell PowerEdge R250 Dell PowerEdge R320 Dell PowerEdge R340 Dell PowerEdge R410 Dell PowerEdge R415 Dell PowerEdge R420 Dell PowerEdge XR2 Dell Precision 3930 Rack Compatible with most Dell EMC VxRails
Dell Part Number
122-7650- AB490271
For a full list of Dell SKUs setup in the Dell ordering system visit our Dell SKU page.
Rail OEM
Dell
Fixed/Sliding
Sliding
Tool-less/Standard
Standard
Included Hardware
Assorted Hardware Included
Assembly Notes
Phillips head screwdriver required
Overall Installation Depth
20" - 30" (508 - 762mm)
Rail Type
2 Post, 4 Post
Mounting Depth Range
4 Post: 20" - 30" (508 - 762 mm) 2 Post: 3" - 6" (76.2 - 152.4 mm)
Finish
Galvanized
Material Type
Galvanized 18 Gauge Steel
Rack Units
1U
Rack Type
2 Post , 4 Post
RoHS Compliant
Yes
Hole Type
Compatible with round, square and threaded racks.
TAA Compliant
Yes