HP DL320 S - Rackmount Rail Guide
Our Rackmount Rail Guide serves to show how the HP DL320 S can be rackmounted in 2 post configurations. RackSolutions offers the BRK-HP-2PC-001 as an alternative to the HP rails for this server chassis, The rail kits mount in 2 post racks.
Note: Your server may look different than the one pictured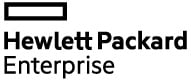 + HP 2U Universal Rail Kit
The rail kit supports square or round holed racks with an installation depth of 27.5" to 30"
Rack Issues, Problems
Call RackSolutions if you have racking issues or if your rack is not in the ranges listed above.